We kindly invite MENDELU students and staff to participate in the Rector Run 2020 that will take place on Saturday, September 19 in the Botanical Garden and Arboretum of Mendel University in Brno. Come and enjoy the unique running route and the atmosphere!
INFORMATION
TRACKS
4000 m – students and staff
4×1000 m – relay race / students, staff, staff relatives (4 runners – 2 men, 2 women)
+ short distances for children
SCHEDULE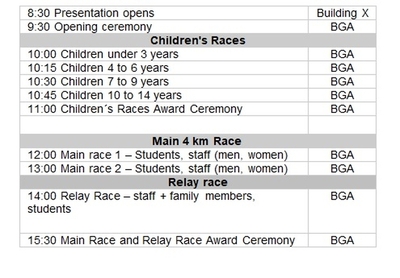 BGA – Botanical Garden and Arboretum
PRESENTATION
30 minutes before your race
REGISTRATION
Registration is free of charge for all categories and is open from June 3, 2020 to August 20, 2020.  If you would have problems in filling in the Registration Form please contact Bc. Zuzana Podnecká at zuzana.podnecka@mendelu.cz.